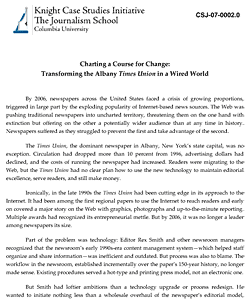 This case study is used as a teaching tool at Columbia University's Graduate School of Journalism. It outlines the challenges of a real newspaper and asks students to put themselves in the shoes of a newspaper editor. I conducted dozens of interviews for this piece, wrote the story, and managed audio recordings for an online version.
Download PDF
17 pages
Pangea3, a provider of outsourced legal services, needed to showcase its success with clients in order to attract new business. I conceptualized and oversaw the design of this piece, conducted interviews, and wrote all copy. This type of sales collateral is very effective because it shows a real-world, fact-based example of business possibilities.
Download PDF
2 pages
I conducted interviews and wrote copy for this case study, which highlights a successful Microsoft software implementation. The case study achieves a clear, interesting narrative of a complicated technology story.
Download PDF
5 pages